KARNI FORT BAMBORA – A HERITAGE HOTEL NEAR UDAIPUR
 Karni Fort, Bambora a Heritage Hotel near Udaipur is today available to the discerning and adventurous traveller, to share in its past and partake of its present- the epitome of Rajput hospitality, princely comforts and Aristrocratic cuisines.
The Karni Fort a Heritage Hotel near Udaipur has been sensitively restored to retain its ambience and yet offer modern conveniences. Of great interest is the whole process of conversation and restoration which the owners, Thakur Sunder Singh, his wife Thakurani Chanda Kanwar of Sodawas (Marwar- Jodhpur) and their Aristrocratic family, took up this challenging task, of converting this majestic Fort into an immaculate Heritage Hotel.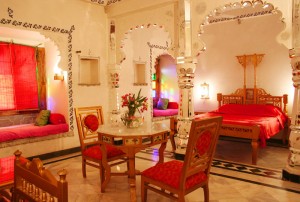 Karni Fort Bambora a Heritage Hotel near Udaipur  has  25 rooms, 8 suites and 17 deluxe rooms with airconditioning. These rooms have been tastefully done up, each having a distinct individuality and style. Karni Fort has exquisite Heritage furniture tastefully handpicked for each room.
Each room at Karni Fort Bambora a Heritage Hotel near Udaipur has a breathtaking view of the scenery around.One can also have glimpse of the beautiful sunrise and sunsets through the large bay windows present in each room.
Enjoy romantic meals in the balconies which are attatched to some of the suites at the Karni Fort, it is truly a exquisite and novel experience. The accomodation at Karni fort Bambora a Heritage Hotel near Udaipur can be the best described as an amazing blend of old charm with modern facilities.
Karni Fort Bambora is managed by Antarim Fort Resort LLP for any query, Please contact below:
Antarim Fort Resort LLP
Prateek Murdia
General Manager
7069039304 ,8780284069
karnifortresort@gmail.com